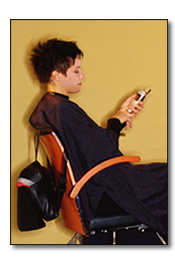 Henry Sibley Senior High School's cell phone policy changed this school year. Students have to keep their phones in their hallway lockers during school hours. And the phones are not allowed in bathrooms or locker rooms.
Elsewhere across the country, advances in cell phone technology — such as built-in cameras and text messaging — have prompted school districts to curtail cell phone use in an attempt to balance fears of cheating and inappropriate pictures with parents' desires to get in touch with their children.
Santa Fe school officials were considering a ban on cell phones in the high schools after they found students cheating on tests by text messaging each other the answers.
A girl in an Arlington, Texas, school brought a camera phone into a locker room — at the request of a male classmate — to take pictures of girls undressing.
School board members in Forest Lake will vote in the next month on a policy that states cell phones must be turned off and packed away in classrooms, bathrooms and locker rooms.
"Virtually every piece of technology … that students possess has the potential of being misused. But technology is part of the fabric of life today," said Kevin Mackin, principal at Mahtomedi High School. "Rather than fight a futile battle against students possessing technology, we have opted to set reasonable limits to its use." (via Twin Cities)